Welcome to syncron.ie
We are a family run business based in Dublin,Ireland that sell a huge selection of products including:
Computer Peripherals & Accessories, Memory Cards, HDMI Cables/Connectors, Keyboards, Wireless Adaptors, Mice, Monitors, Webcams, Components, Mobile Phones Accessories and much more.
All of our products are brand new and come with 100 Days Warranty.
NEXT DAY DELIVERY
*Oder before 5:00pm Monday to Thursday and your order will be delivered on the next working day!

Sales & General Enquiries (Mon-Fri 9am-6pm)
Email: sales@syncron.ie
Phone: +353 85 882 7898
3 X Clear Screen Protector Film Cover for iPod Touch & iPhone 3G 3GS
Best Screen Protector for your Apple iPhone .

Protector is made of a thermo-plastic polymer (PET) that is very lightweight and impact resistant .

Fully Covers the Entire Front Face of the iPhone for FULL PROTECTION, unlike other protectors that only covers the lighted screen section .

Pre-cut Protector - you do not need to cut the protector to fit your iPhone.

High Quality, Ultra Thin and Optically Clear Screen Protector .

Anti-Glare and Anti-Scratch Coating .

Provides Instant Protection from Scratches, Dust and Fingerprints .

Bubble Free Application .

99,9% Transparency produces vibrant colors from the screen .

Easy to remove with no sticky residue .

Specifically made for Apple iPod Touch & iPhone 3G 3Gs

.
You should rub the applied surface several times over to ensure an even attachment. Obviously, can be peeled off for re-positioning if placed incorrectly the first time round without damaging the surface of your device / screen.
Package Contents:
3 X Clear Screen Protector Film Cover for iPod Touch & iPhone 3G 3GS
Your purchase from us will be automatically covered by our exclusive free replacement warranty program.
100 Days warranty.
Installation instructions: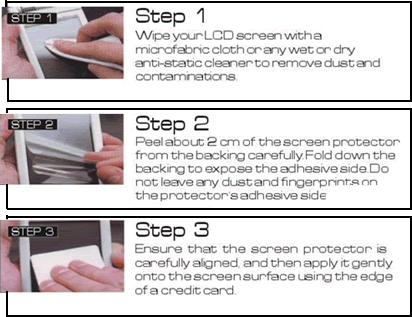 PAYMENT:
We accept the following payment methods listed below:
- Pay instantly with Paypal with credit/debit cards (No Additional Charge for Using this Service)
- Postal Orders Euro or UK Postal Orders - No Clearing time is needed for this option-Goods will be sent right away. Please contact us first,if you wish to use this payment method.
- If your details with PayPal are not verified/confirmed we reserve the right to return your payment.
SHIPPING:
Next Day Delivery*
- *If you order before 5:00pm Monday to Thursday, your order will be delivered on the next working day. Orders placed after 5:00pm on Thursday will be delivered within 2 working days. Your package will arrive by An Post to the nominated daytime address (within the Republic of Ireland).
- 3 - 7 working days to UK & Europe
- Please note that the item will be shipped without package to save postage costs.
P&P Conditions
Our P&P costs include delivery charges,ink,labels, packaging,mailing sacks,bubble wrap and handling fees.If you do not agree with the p+p charges that we associate with this item then please do not bid. Winning an item constitutes your acceptance of the above.
RETURNS:
• We at Syncron.ie want the customer to be totally satisfied with every purchase you make. So if you are not completely happy with any item, simply return it within 100 days of the sale date.The Item must be in unused condition and in its original packaging together with all purchase details. We'll exchange it or offer you full refund minus P+P.
• For any exchange or refund, we need a record of the purchase in our system,this should include your eBay username and item number, the product must be in its original condition, including the box, packaging, and all accessories.
• Please allow up to 8 business days for returns to be processed.
• Shipping and handling charges are not refundable.
• Customer must contact us before sending back returns.

Check out my other items!