PureFitness & Sports began on 1st May 1995 supplying quality home fitness products throughout the U.K. and Europe. We operate from 35,000 sq ft premises over 3 sites in Kingston-upon-Hull, East Yorkshire.
Being a 'bricks & mortar' company we are able to give consumers what they want, when they want it. Our great relationships with the major manufacturers mean our customers will always find great deals 365 days a year. All products displayed online are physically in stock so we can guarantee Same Day Dispatch* and Next Working Day Delivery*.
Our large buying power enables us to buy big and buy direct from the manufacturers. This enables us to offer GENUINE savings on suggested retail prices.
The foundation of our business has been built on outstanding service and we understand our future success is based on satisfied customers. Our in-house service & parts centre is well stocked to ensure your purchase remains in use for years to come.
All products come with a 30-day money back guarantee with Free Returns, such is our confidence in our products.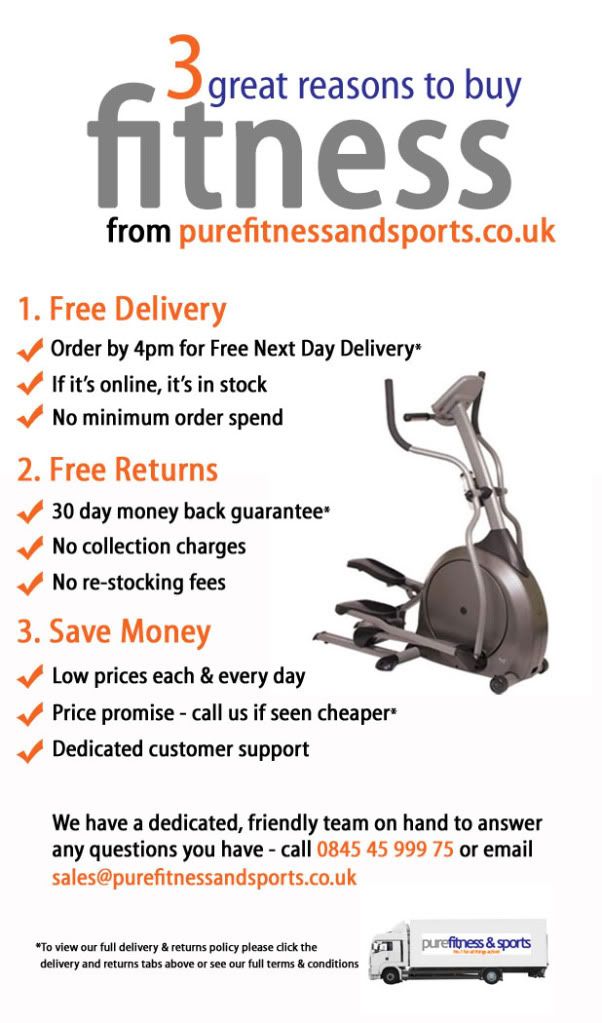 Credit / Debit Cards - we accept all major credit and debit cards including Visa, Visa Debit, Mastercard, Maestro, Solo, Electron. Payments are accepted online 24hours a day or telephone orders on 0845 45 999 75 (Mon-Fri 08:00-17:00). Payments are processed through SagePay (Protx), the fastest growing online payment service provider and one of the most trusted business brands in the UK (Sage).
PayPal - We are fully PayPal Verified. Goods will only be dispatched after payment notification. PayPaleCheques are accepted but please note that when you send money with an eCheque from a UK bank account, the transaction will be held as pending for 7-9 working days, until the electronic funds transfer has cleared your bank.
Transaction Security - All information is encrypted using 128-bit SSL certificates. No cardholder information is ever passed unencrypted and are signed using MD5 hashing to prevent tampering. You can be completely assured that nothing you pass through SagePay can be examined, used or modified by any third parties attempting to gain access to sensitive information.
Postal Orders & Cheques - We accept Banker's Draft/Postal Order and Personal Cheques. Please make payable to "Pure-Tec Ltd" and send to the address below with your order details, i.e. item number, order number, user name, name and address:
Pure-Tec Ltd
Unit 3
Sullivan Business Park
West Dock Street
Hull
HU3 4TG
Please Note: We can only dispatch goods once we have received payment or cleared funds in our account, we are unable to dispatch any goods prior to notification of payment/clearance.
All PureFitness & Sports deliveries are free of charge from Multi Gyms, Smith Machines, Weight Benches, Treadmills, Cross Trainers, Exercise Bikes, Rowing Machines, Boxing
Equipment and much more either by courier or Royal Mail on a Next Working Day service which will be stated on each individual product listing (unless stated*).
Orders received by 4pm (weekdays only) are dispatched the same day.
Orders received after 4pm on Fridays, Weekends and Bank Holidays are dispatched next working day.
Free delivery applies to mainland UK only.
Free delivery also applies to the Grampian & Highland regions but please allow 2-3 working days for delivery.
We deliver to N.Ireland, Scottish Islands, Isle of Man and Rep.of Ireland. Please call for a quotation on Tel: 0845 45 999 75
Saturday AM delivery is available for an additional £20.00 per order on UK mainland orders, please select option on product listing before adding to cart (excludes Grampian &
Highlands).
We are happy to accommodate any delivery requests you may have such as specific date and delivery instructions. Please telephone on 0845 45 999 75 or email:
deliveries@purefitnessandsports.co.uk.
*Items marked 5-7 day delivery or do not state next day delivery are dispatched and delivered direct from the manufacturer. You will be notified by telephone or email which date
your order is due to be delivered.
We operate a no-quibble 30 Day Money Back guarantee including free return shipping should you decide your purchase is not suitable. All we ask is that you package the item(s) securely in the original packaging suitable for return carriage. Please contact us for a returns authorization number and collection date. We will arrange collection via courier on a date to suit you. Please Note: Collections can take up to 30 days after returns verification. Items under 1kg such as Boxing Gloves must be sent via 2nd Class Royal Mail Recorded service. We will credit you back for the full postage amount. Please also contact us for a returns authorization number prior to dispatch.
For health & safety reasons we are unable to accept returns on food supplement products.
Should an item be received with a missing or damaged minor part we will arrange for replacement parts to be dispatched immediately. Please contact our Parts Department on Tel: 0845 45 999 75 or email service@purefitnessandsports.co.uk
In the unlikely event of your item being lost or damaged during transit a replacement item will be dispatched immediately. All deliveries are fully insured by our courier network.
These Terms and Conditions apply to all orders for products placed with us over the telephone or by fax, post or email. Please read them carefully before ordering products from us. Nothing in these Terms and Conditions affects the statutory rights of consumers.
1.Acceptance of Your Order
oWe, Pure-Tec Limited trading as Pure Fitness and Sports, must receive payment of the price of the products and the delivery charges before we can accept your order. We reserve the right to refuse your order or to restrict the number of products you may order. We will not usually cash any cheque you send to us or take any money from the credit/debit account which you provide details of in respect of your order until we have accepted your order. We will send you an email to acknowledge your order. This email does not mean that we have accepted your order. We will indicate acceptance of your order by telling you over the telephone or in writing by email, fax or post. Our acceptance of your order creates a binding contract between us.
2.Prices
oOur prices are available over the telephone and are set out in our website (www.purefitnessandsports.co.uk) and other literature. All prices are in Pounds Sterling and are inclusive of United Kingdom-rated VAT where applicable. You are responsible for the disclosure and payment of any import duties or other taxes which apply in the country to which the products are delivered. Our VAT number is 647-393-702.
oPrices remain in force until we tell you over the telephone that they have changed or until we publish new prices on our website or in our literature. Delivery charges may apply and will be communicated to you before completion of your order. These are added to your order and are dependent on the delivery address you have supplied and the number of products you have ordered.
oWhilst we try to ensure that all prices on our website, in our literature and given over the telephone are accurate, mistakes can sometimes occur. If we discover an error in the price of products you have ordered we will contact you as soon as possible and give you the option of either reconfirming your order at the correct price or cancelling it. If we are unable to contact you we will treat the order as being cancelled. If the order is cancelled, we will refund any money which we have taken from you.
3.Images and Description
oAll images and descriptive matter contained in our website or other literature are for the sole purpose of giving an approximate idea of the products described.
oThe products are only suitable for the purposes described by us: you are responsible for deciding whether a product is suitable for your purposes and for the manner in which you use it.
4.Copyright and Trade Marks Notice
oThe copyright in the design, text, graphics, selection and arrangement of this web site and its pages belongs absolutely to Pure-Tec Limited or its content and technology providers. You may reproduce and print off parts of this web site only for the purpose of selecting and beginning the order process for our products. All other use is prohibited without our prior written consent.
oThe trade marks, logos and service marks (collectively "the Trade Marks") displayed on our website and in our literature (whether registered or unregistered) are and shall remain the property of their respective owners. Nothing contained in our website or literature shall be construed as granting any licence or right to use any Trade Mark displayed in our website or literature without the prior written consent of the relevant Trade Mark owner. Your misuse or infringement of any of the Trade Marks displayed in our website or literature is strictly prohibited.
5.Availability
oAll orders are subject to availability of products. If we are unable to deliver products ordered by you we will notify you and credit the price and the delivery charges of the unavailable products to your credit/debit card or send you a cheque for the amount to be refunded within 30 days of your order unless you agree to a longer period.
6.Delivery
oOur aim is to deliver your order the next working day for all orders placed before 4pm but please allow up to 28 days for delivery of your order. We will deliver products ordered by you to the address you provide to us. You will not become the owner of the products until they have been delivered to you, at which time they will also become your risk and we will not be liable for any subsequent damage, loss or destruction to them.
7.Right of Cancellation
oThe United Kingdom's Consumer Protection (Distance Selling) Regulations 2000 provide you with a right to cancel your order for products at any time up to the end of the seventh working day following the day after the day on which you received the products. You do not need to give us any reason for cancellation.
oIf you wish to cancel your order please write to us at Pure-Tec Limited, Unit 4, SullivanBusinessPark, West Dock Street, Hull. HU3 4TG United Kingdom or fax us on 44 (0)1482 585747 or email us at deliveries@purefitnessandsports.co.uk.
oUntil you have returned the products to us, you must keep them in your possession and take reasonable care of them. We will credit the price of the products and our original delivery charges to your credit/debit card or send you a cheque for the amount to be refunded.
8.Returns Policy
oIn addition to the right of cancellation in condition 7 above, we operate a Returns Policy which applies to most of the products sold on our website. If for any reason you are not satisfied with products bought from our website you may return them to us within 30 days of purchase for a refund or exchange.
oTo return a product please first write to us at Pure-Tec Limited, Unit 3, Sullivan Business Park, West Dock Street, Hull, HU3 4TG, United Kingdom or fax us on 01482 585747 or email us at deliveries@purefitnessandsports.co.uk. You must return the product to us in their original condition and carefully packaged. You must provide us with the original invoice, despatch note or other proof of purchase. Please Note: Collections can take up to 30 days after returns verification.
oWhen making a refund, we will only credit our delivery charges under this Returns Policy if the reason for return is because of our error or if the products are damaged, defective or of incorrect quantity.
oNothing in this Returns Policy affects any statutory rights you may have as a consumer.
9.Warranty and After-Sales Services
oAll products bought from us by telephone, email, post or fax are guaranteed against defects in materials and workmanship for 12 months from the date of purchase. The frames of all static exercise equipment sold by us are guaranteed against defects in materials and workmanship for 5 years from the date of purchase.
oIf within the warranty period after having opportunity to inspect the product we are satisfied that it is faulty as a result of a defect in materials or workmanship you may return the product to us for an exchange or refund of the price of the product. You must provide us with the original invoice, despatch note or other proof of purchase. If we supply a replacement product this warranty shall apply to the replacement product for the balance of the warranty period for the original product.
oThis warranty does not apply where the defect is due to the product not being cared for in an appropriate manner or the product has been otherwise modified, misused, neglected or willfully or accidentally damaged. This warranty is not transferable to a new owner of the product.
oIn the event that the product you ordered requires a spare part in the future which is not covered by this warranty, we may be able to locate that spare part and sell it to you.