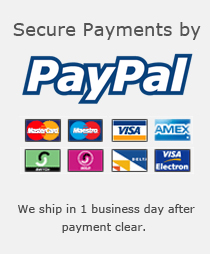 Brown Stitch Seam Button Hole Ripper Quick Unpick NEW
SKU: E000106468
Features:
A seam ripper with plasitc handle
Perfect for ripping out seams and stitches without damaging the fabric
Small version, very handy for getting into all those small places and undoing fine stitching
Clear cap can protect the blade edge or be used as an extension handle
A red round mini ball at the end of the smaller fork for protecting your fabric
The Blade Edge Length: Approx. 0.5 inch / 1.3cm
The Exposed Metal Part Length: Approx. 1.5 inch / 3.8cm
Total Length: Approx. 5.23 inch / 13.3cm (clear cap included)
Material: Steel and plastic
Color: Brown
Just buy it! Don't just think about it!
All the pcitures are taken by real items, you'll receive item(s) as following:
Shipping And Handling Policy
The buyer is responsible for any applicable import duties and local taxes. Please verify with your customs before making your purchase.
Please verify your address during checkout. We are not responsible for any wrong or undeliverable addresses.