Welcome to SYNCRON
We are a family run business based in Dublin,Ireland that sell a huge selection of products including:
Computer Peripherals & Accessories, Memory Cards, HDMI Cables/Connectors, Keyboards, Wireless Adaptors, Mice, Monitors, Webcams, Components, Mobile Phones Accessories and much more.
All of our products are brand new and come with 100 Days Warranty.
NEXT DAY DELIVERY
*Order before 5:00pm Monday to Thursday and your purchase be delivered on the next working day!
Handsfree Earphones Headphones with Mic for iPhone 4 3G 3GS & iPod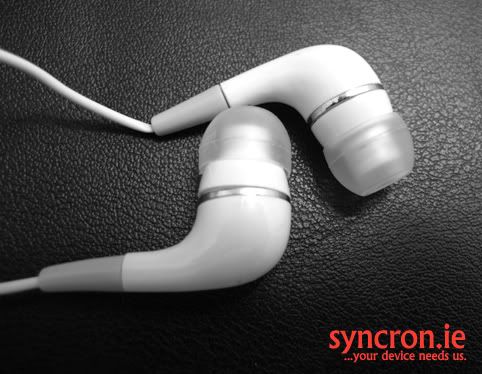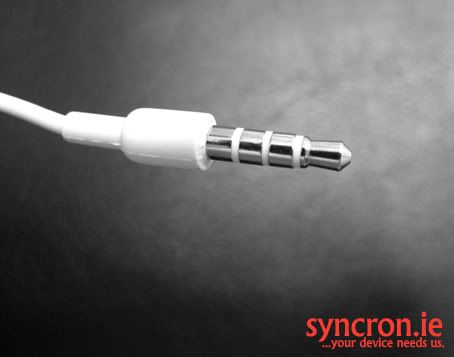 Enjoy Hands-Free conversations, with the ON/OFF switch on the microphone, just one press you can answer at your call immediately (very convenient while you are listening to your favorite music) once the call hang up, your favorite music will come up again automatically and you don't need to touch anything.
You can also toggle the Play or Pause for your iPod music with a simple press on the On/Off button (you don't need to touch any icon on the iPhone screen for this)
The microphone is also great for any voice control features that the iPhone and iPod Touch have.
In addition, the earphones are very lightweight. Suitable for all Apple devices such as the iPhone 4, 3G, 3GS and 2G, and the Ipod Touch. (Full compatibility list below).
Their excelent stereo sound quality and outstanding bass and treble clarity is great for listening to your mp3 music.
Also works with all iPods and other mp3 players as headphones.
Design Details and Features List
Make phone calls using the microphone or listen to audio files on your iPhone.
Lightweight & Stylish design & Low noise.
Superior comfort and fit with soft in-ear cushion design.
Enhanced sound quality, outstanding bass and treble clarity.
Greater isolation from exterior ambient noise.
Enjoy Hands-free conversations.
Excellent sound quality and super clear sound.
Keep your hands free and on the wheel.
Plug: 3.5mm stereo mini plug.
Exactly the same as genuine Apple item; if not better.
Cable Length: 110cm.
100% Brand new.
Compatibility List
iPod Touch 2G, 3G and 4G
Ipod Touch 4
iPhone 4
iPhone 3G 3GS

iPod 3rd Gen
iPod Classic
iPod 4th Gen
iPod Nano 1st Gen
iPod Video
iPod Mini
iPod Nano 2nd Gen
iPod Nano 3rd Gen
iPod Nano 4th Gen
iPod Nano 5th Gen
Package Contents:
1 x Handsfree Earphone Headphone with Mic for iPhone 3G 3GS & iPod
Your purchase from us will be automatically covered by our exclusive free replacement warranty program.
100 Days Warranty.
PAYMENT:
We accept the following payment methods listed below:
- Pay instantly with Paypal with credit/debit cards (No Additional Charge for Using this Service)
- Postal Orders Euro or UK Postal Orders - No Clearing time is needed for this option-Goods will be sent right away. Please contact us first,if you wish to use this payment method.
- If your details with PayPal are not verified/confirmed we reserve the right to return your payment.
SHIPPING:
Next Day Delivery*
- *If you order before 5:00pm Monday to Thursday, your order will be delivered on the next working day. Orders placed after 5:00pm on Thursday will be delivered within 2 working days. Your package will arrive by An Post to the nominated daytime address (within the Republic of Ireland).
- 3 - 7 working days to UK & Europe
- Please note that the item will be shipped without package to save postage costs.
P&P Conditions
Our P&P costs include delivery charges,ink,labels, packaging,mailing sacks,bubble wrap and handling fees.If you do not agree with the p+p charges that we associate with this item then please do not bid. Winning an item constitutes your acceptance of the above.
RETURNS:
• We at Syncron want the customer to be totally satisfied with every purchase you make. So if you are not completely happy with any item, simply return it within 100 days of the sale date.The Item must be in unused condition and in its original packaging together with all purchase details. We'll exchange it or offer you full refund minus P+P.
• For any exchange or refund, we need a record of the purchase in our system,this should include your eBay username and item number, the product must be in its original condition, including the box, packaging, and all accessories.
• Please allow up to 8 business days for returns to be processed.
• Shipping and handling charges are not refundable.
• Customer must contact us before sending back returns.

Check out my other items!