Hand Carved Wild Scottish Hardwood Meditation (Seiza) bench Stool
This is a chance to own a unique hand carved 'Meditation Stool/ Seiza bench'.

Okay, now the 'Bad News'. Each one is individually made for you. This takes time; there is about nine hours of work in each 'Meditation Stool/Seiza bench'. So it will take about twenty one days before I can dispatch it to you.
When I make your Meditation Stool/Seiza' bench I carve out the wood, following the natural contours of the grain. This provides you with a totally unique feeling that comes from craftsman to client. I sand your Meditation Stool/Seiza' bench with over eight different grits of abrasive and then steel wool. This is when I rub in the oil. I then give it a generous coating of homemade beeswax polish. As nice as it would be for me to buff it to a high shine (honest, I love doing that!). The seat part is better left with a layer of the beeswax. This is something I learned from my surfing days off Durban Natal. We put a rub of 'sexwax' (http://www.sexwax.com) on our surf boards – which gave our surfboards a slip free surface.
As each 'Meditation Stool/Seiza bench' is unique, so is the timber. You will receive pictures of your completed bench prior to dispatch; the picture with Jamie meditating is to help show its size and demonstrates a normal Seiza position. I will make the bench to your exact requirements. You only need to give me your height, weight & Timber Choice.

It is custom made, so you can decide how you want it. If you need any advice in deciding you may e-mail me.
Jamie demonstrating the seiza position.







Why use a Meditation Stool/Seiza' bench?
The legs are curved at the base, this allows you to fine tune your posture.
Your Meditation Stool/Seiza' bench, tucks in behind the top of your thighs. Essentially you don't sit on the bench but rest on it. The legs are rounded as everyone sits at a slightly different angle and this allows you to adjust the sacral tilt into a very comfortable position. This takes the weight off your knees and ankle joints – allowing you to feel as if you are floating.
The 'Meditation Stool / Seiza bench' help's reduce existing, and prevent new back problems developing.
Sitting on a 'Meditation Stool / Seiza bench' with its angled seat places your spine into an automatically improved position. Maintaining a straight posture is important in the practice of meditation. This Meditation/Seiza Bench will help you to do this.

The seiza position is active and impossible to slump in. This helps you avoid back pain. It also helps you develop your core musculature strength; this is the foundation of a healthy back.
 Ergonomic design. Reduces aches and pains from sitting for long periods by helping align the pelvis, neck, back and shoulders
 Spine and hips align to relieve back, shoulder and neck stress
 Relieves fatigue resulting in freedom from backache caused by sitting for long periods
 sustainably managed hardwoods go into the production of
'Your Meditation Stool/Seiza bench' and it's finished with locally sourced beeswax. I include the recipe with each order
 Satisfaction guaranteed.

Dimensions 18 inches/45 cm width 7.5 inches/19 cm height
7.5 inches/19 cm depth 3 kg/6.5lb weight (approximate)
Mother and daughter sharing a quiet time together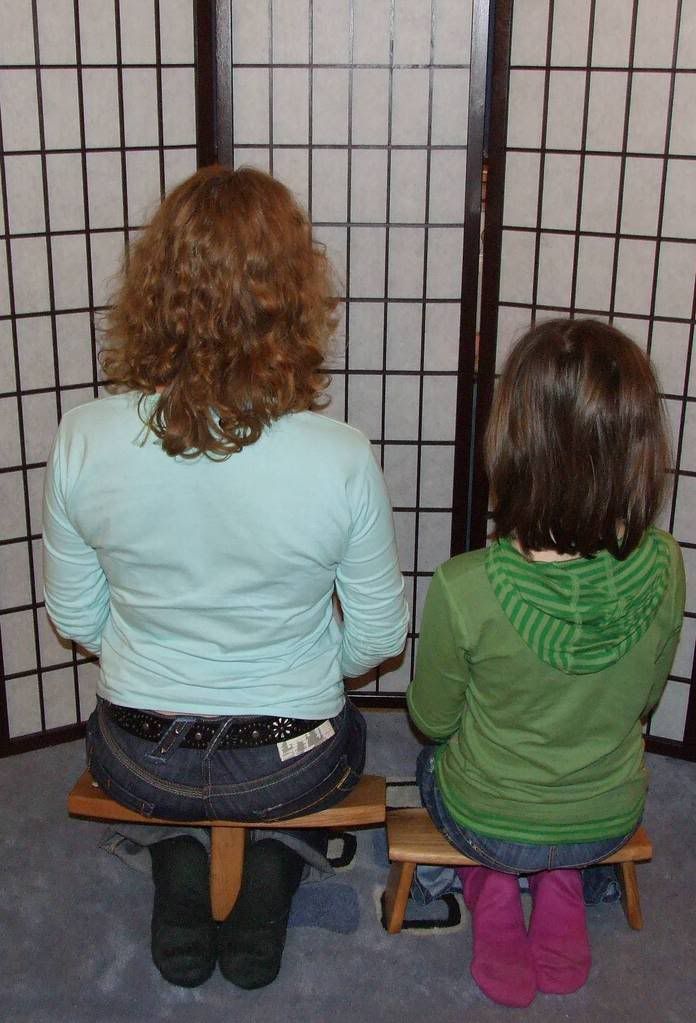 Due to its unique design this bench allows you to gently rock until you find the most comfortable posture, no need for a cushion, this means as well as being used for meditation and yoga it has many other uses, imagine reading a bedtime story at their height in extreme comfort or helping your child's posture sitting on the bench when they play computer games. Smaller benches are available for children. These cost less, and priced individually
It is custom made.
When you buy one you'll be amazed at how Heavy it is, on average 3kg or 6 ½ lbs .
Postage to USA or Europe is very expensive as it weighs over the 2kg threshold. I will price the postage and packaging at cost.
'Your Meditation Stool/Seiza bench' bench folds up as shown in the picture so that you can take it anywhere, then simply flip the legs out to make it as sturdy as a rock when sitting on it (not to be used on a smooth surface without a mat)
If you are after a durable bench of the highest quality fully hand crafted meditation bench then this is the product for you!









About the Carpenter
: Jamie, a fourth generation carpenter from Scotland, who made his first Seiza bench for a German Zen Meditation Master in Durban, South Africa over thirty years ago. From there he started making Puja Tables and Shrines; these have been sold to Masters all over the world. Jamie is a wheelchair user due to a spinal injury and also a fully qualified Meditation Teacher and is able to answer any questions that you may have about Meditation.


All Meditation/Seiza Benches are designed from both safety and comfort. It must not be used directly onto a polished floor. Rather use a mat, towel or on a carpeted surface
The folding benches have Electro Brass hinges and screws. The hinges have a unique radius corner that ensures maximum safety and strength.


No Extra Charge for Special Sizes
Each one is individually made
We are now using Parcelforce for most UK items. You can then track your item to your door!
Due to continuous delays with Italian mail we will no longer be supplying to Italy, however we can provide you with a quote for a Courier service.
For all overseas customers please e-mail me for a shipping quote.
'Om Mani Pedme Hung'