WE GUARANTEE THE CORRECT FITMENT FOR YOUR CAR.
IT COMES COMPLETE WITH A NEW KEYBLADE ( WILL NEED CUTTING TO YOUR KEY) AND ALTHOUGH IT IS A SUPERIOR AFTERMARKET PART, IT IS A DIRECT REPLACEMENT FOR YOUR ORIGINAL PEUGEOT FOB.
IF YOU PREFER, YOU CAN FIT YOUR OLD KEYBLADE TO THIS CASE INSTEAD OF HAVING ANOTHER CUT PLUS WE ALSO INCLUDE INSTRUCTIONS ILLUSTRATED BY PICTURES TO SHOW YOU HOW TO TRANSFER YOUR OLD CIRCUIT BOARD AND BLADE TO THE NEW FOB.
FULL WRITTEN INSTRUCTIONS WILL ALSO BE INCLUDED IN THE PACK.
CHANGING YOUR CASE TAKES ONE MINUTE!
WE CAN SUPPLY A CASE TO FIT THE FOLLOWING VEHICLES:
406 - ALL YEARS
407 - ALL YEARS AND MODELS INCLUDING SW
207 - ALL YEARS INCLUDING THE CC MODEL
307 - ALL YEARS INCLUDING THE CC MODEL
EXPERT VANS - ALL YEARS
IF YOUR FOB IS THE SAME AS ANY OF THE ONES SHOWN IN THE PICTURE, WE HAVE A FOB THAT WILL FIT YOUR CAR SO PLEASE ASK US.
ORDERING PROCEDURE
1. USE THE BUY IT NOW BUTTON AND PAY WITH YOUR PAYPAL ACCOUNT.
2. WE WILL THEN SEND YOU A MESSAGE VIA EBAY ASKING YOU WHICH FOB YOU NEED OF THE 3 TYPES SHOWN BELOW AND THE POSITION OF THE BATTERY IN YOUR CURRENT FOB.
3. WHEN WE RECIEVE YOUR REPLY, WE WILL SELECT THE CORRECT FOB FOR YOU AND SEND IT IMMEDIATELY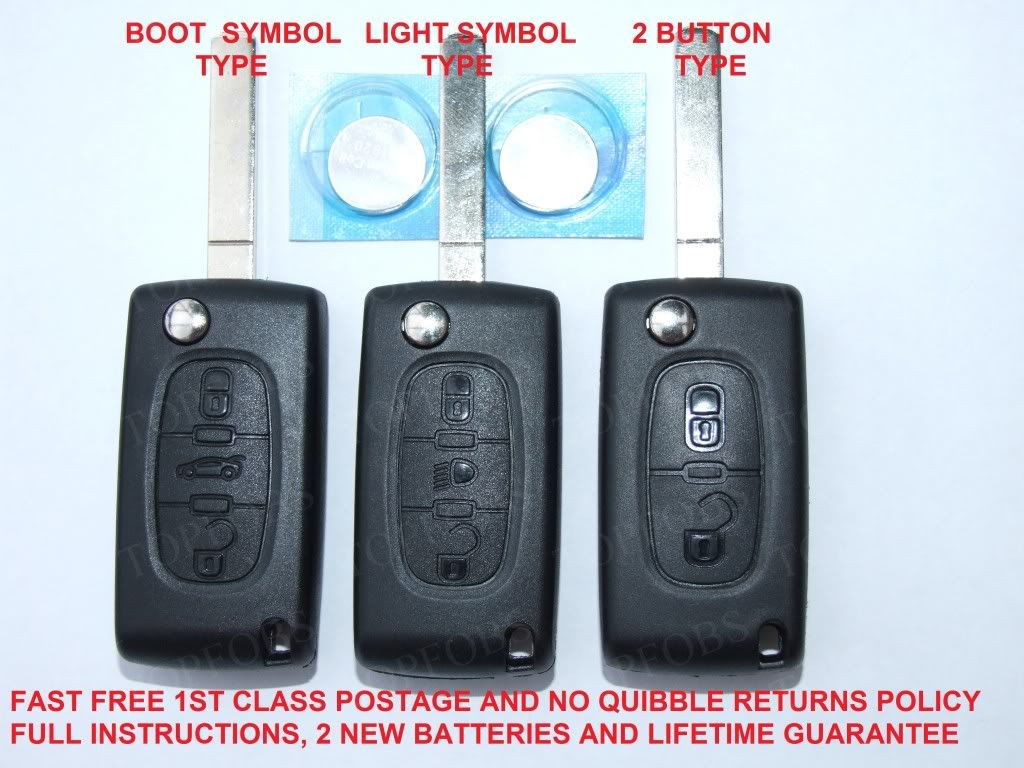 a>
JUST TO RECAP, WHEN YOU BUY THIS ITEM YOU WILL RECEIVE:
* 1x BRAND NEW TOP QUALITY REPLACEMENT CASE INTO WHICH YOU PUT YOUR ORIGINAL CIRCUIT BOARD.
* 2 x BRAND NEW BATTERIES TO FIT WHILE YOUR CASE IS OPEN ALONG WITH A SPARE FOR YOUR OTHER REMOTE (UK BUYERS ONLY).
* 1 x BRAND NEW UNCUT KEYBLADE BLANK (RRP £9.99)
* 1 X FULL WRITTEN USAGE INSTRUCTIONS TO HELP YOU TRANSFER THE CIRCUITBOARD AND SWAP YOUR BLADE OVER.
* A FULL 2 YEAR GUARANTEE AGAINST MANUFACTURING FAULTS.
* PEACE OF MIND THAT WE OFFER A FULL MONEY BACK GUARANTEE ON RETURN OF THE ITEM AND NEVER CHARGE A RESTOCKING FEE!
* THE BEST CUSTOMER SERVICE THAT IS AVAILABLE ANYWHERE ON EBAY.
ABSOLUTELY NO KEY PROGRAMMING IS NECESSARY WHEN YOU REPLACE YOUR CASE WITH THIS ONE.
JUST AS A REMINDER, THIS ITEM DOES NOT INCLUDE THE CIRCUIT BOARD, YOU JUST SLIP IN YOUR OLD ONE FROM THE BROKEN REMOTE.
WITH RESPECT TO PSA PEUGEOT CITROEN,THIS ITEM IS NOT PEUGEOT OR MANUFACTURER BRANDED AND IS NOT SUPPLIED WITH A LOGO.
IT IS CLEARLY LISTED AS AN AFTERMARKET PRODUCT WHICH WILL FIT THE PEUGEOT CARS STATED.
PAYMENTS METHODS ACCEPTED

CLEARANCE TIME FOR PAYMENT

Paypal (Preferred)

On receipt of your paypal payment,We will post/ship your item the next working day at the latest as long as we have all the information we have requested from you about your cars application.

We always send items to the address that ebay/paypal hold for you.

POSTAL ORDERS and CHEQUES

Please contact us via ebay messges to arrange payment using either of these methods, we will post your item as soon as your cheque clears but will treat postal orders as cash and post your item the next working day after receipt.

Bank Transfer

Not available

WE DO NOT SHIP ON SUNDAYS AND BANK HOLIDAYS

No goods will be released until payment has been cleared and received. We will not ship goods for cheques that have not been cleared.
SHIPPING AND DELIVERY

TYPE OF DELIVERY OFFERED

UK DELIVERY (FREE)

Royal Mail 1st Class.

DELIVERY TO EUROPE (£3.30)

Royal Mail 1st Class Airsure Airmail

DELIVERY TO REST OF WORLD (£3.30)

Royal Mail 1st Class Airsure Airmail

LOCAL PICK UP IS NOT AVAILABLE

Delivery time in the UK is between 2-5 working days.

Delivery time to Europe is between 5-8 working days.

Delivery time to rest of the world is 8-10 working days.

If your item has not arrived within this time scale, please contact us via ebay messages and we will always chase it for you. Please be assured that we will never let you down and never pass on the responsibility to chase an undelivered item yo our customers as it is our responsibility to make sure that you receive it!

All postal items are insured by Royal Mail
No Quibble Returns and Faulty Goods Policy
Here at Topfobs, we are a responsible and ethical business and we respect the distance trading regulations.We try to make it as clear as possible what our buyers are buying with a good description and clear photographs. Occasionally, one of our customers may buy the wrong item for their car or may not read the description fully. If that happens and we are contacted by the buyer then we will always offer a no quibble full refund if the item is returned in original condition within 30 days of receipt.
Also, if any of our products develops a fault due to a manufacturing error at any time in the future, we will also exchange that item free of charge which is why we offer a lifetime guarantee on all our quality products! If you experience an issue with our products or services, please tell us by contacting us via ebay messages, whatever your concern, we guarantee that it will be dealt with proffesionaly and courteously, please dont use the ebay feedback system to complain as we cant help you with your problem if you do!
UNDELIVERED OR RETURNED PARCELS
We always include a return address stamped on any item we send out. From time to time, items are returned to us as undeliverable or adressee gone away. Please make sure that ebay and paypal have your full up to date name and address details so we know we are sending your item to the correct place. If a parcel is returned to us, whether its undeliverable or damaged, we will notify you as soon as it comes back by sending you a message via ebay messages. We will of course send your item out again ASAP at no further cost to you.