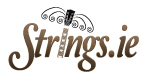 Ireland's Premier Supplier Of Musical Instrument Strings & Accessories
Buy with confidence - Irish registered business, reg no: 325586
Quick Draw Sliding Guitar Capo
Quick Draw Sliding Capo for Guitar
The quickdraw capo has a unique design which is proving very popular for session/open tuning players.
This capo can slide between fret positions making it perfect for backing tunes and changing keys quickly.
The Quick Draw capo will operate flawlessly after one initial adjustment. It remains ready to slide into position for the fastest key changes possible even as you are playing!
Quick Draw capo need never be removed! Push it easily above the nut for storage, and to the first or second fret to help hold new strings during replacement. It stays with your instrument, so you'll always know where it is.
The Quick Draw is a patented, state of the art capo made possible by high tensile steel and modern "0" friction plastics. Your choices are no longer limited to rigid unwieldy clamps which obstruct your playing, are hard to adjust or easy to misplace. Such clamps can pull your strings out of tune and out of line and occasionally dent the neck of your guitar.
With ultra-high tensile steel, the Quick Draw capo flexes to conform to the curvature of the neck of the guitar, making string hold down forces as low as possible. Thus, there is no pitch distortion as with earlier capo types when imprecisely positioned or adjusted. Ultra-low friction plastics make it possible to slide your Quick Draw capo thousands of times without wear.
With the low profile of the Quick Draw, attention is where it should be - on your playing, not on your capo. The unobtrusive Quick Draw has the lowest profile of any capo and will never cramp your playing style.
Lowest Profile.
Never needs to be removed!
Slides instantly to any position.
Made of the newest "0" friction plastics.
Slides over nut when not in use.
You can even slide the capo to convenient place to hold the strings when restringing your instrument.
Also available for Classical Guitar, Bouzouki and Banjo/Mandolin - Please contact us.


These will come straight out of our shop. They are as new.
Strings.ie is part of The Music Shop, Ireland. If you have any questions please do not hesitate to contact us either through ebay or by phone on +353 (0)91 395674
All items are shipped next working day.