"ALAN TRACY"
Supermarionette
Boxed Puppet
Made by PELHAM ion 1999
Approximate size: 12 inches high
Product Code: 001016
Packaging shows slight signs of age / wear / damage.
As we have a few of these, please note that the one displayed may not be the one you receive.
If you see (DJ) in the header, please ignore, it's for our reference only.
We note that the postage seems high, but as always, we will refund on any over charge on postage.

N.B All images (except that of the product) are for reference only.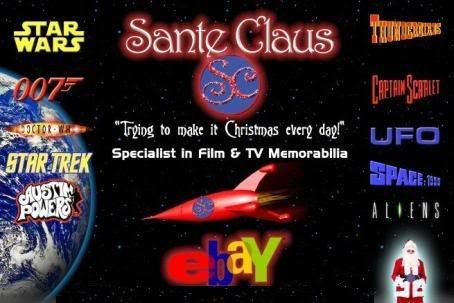 Our intention is always to surpass your expectations
for quality, service and value.
Dear Ebayer,
Season's greetings to you and your family.
Thanks for stopping by to look at what we have on offer.
Before purchasing from me, please read my "ME" page for
"Terms & Condition", updates and comments.
The most important points you need to know are:
1) We do combined postage & reimburse if there is any over charge
2) In most circumstances all posting is done on a SATURDAY
3) Please be patient for item to arrive as we have no control over the postal service.
4) We will not send your item(s) to you until you re-confirm your address and that you have read our terms.
Please note that we are not always around (for a few days sometimes) which is why we cannot reply straight away.
Thanks for stopping by.
Sante Claus