To change your contact information:
When you registered with eBay, you provided some basic information, such as your address and phone number. To use eBay effectively, it's important to keep this information accurate and up to date. If the information changes, you can update your account information and you don't need to register again.
From My eBay, you can change the following contact information:
Registered name, address (includes payment and delivery addresses), and telephone number.

Note: Telephone numbers may not be a fax, pager, or disconnected number.

Email address – You will need access to the updated email address to complete the process. You don't need to register with eBay again, just update your email address, and your other account information and member profile (including Feedback) is retained.

Important: If you register again with a new email address, information associated with your old email address could be lost.
To change your contact information:
Click Personal Information

Click the Edit (B on the image below) link next to the information you want to update.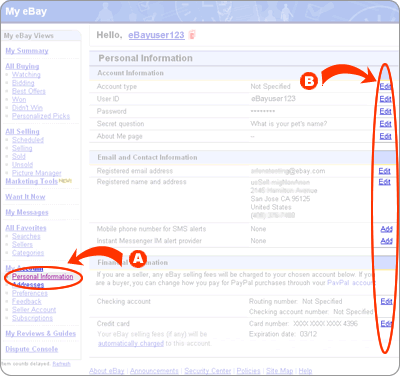 Change Account information – Account type (business or individual), user ID, password, secret question, phone number, email address, profile and PIN.
For information on other information you can change in My Account (Preferences, Feedback, Seller Account, Subscriptions), see Managing Your Account with My eBay.