Under the European Union (EU) consumer protection law, business sellers who sell items over the internet to consumers must provide their customers with information about their business, their contact details and provide further details that may be important to complete the transaction prior to the conclusion of the contract.
When do EU consumer protection laws apply?
EU consumer protection laws always apply if you are a business seller selling to consumers residing in the EU, regardless from where you are operating your business (eg: US, China, Singapore, etc.).
On eBay, you are a business seller selling to consumers residing in the EU when you:
List items on an eBay website directed at any EU country or

Offer worldwide postage and makes clear reference to customers residing within the EU (for example by the language of the listing, by mentioning special postage rates to the EU, etc.).
If you do not sell your goods to consumers residing within the EU, these laws do not apply to you. You should take the following measures:
Do not list your items on any eBay website directed at any EU country (eg: eBay.co.uk, eBay.de, eBay.fr, eBay.es, eBay.it, eBay.nl, eBay.be, eBay.ie, eBay.at, eBay.pl).

When offering worldwide postage, exclude postage to EU countries in your listings by deselecting the corresponding postage options in your listings. It is also advisable to add a disclaimer to your listings stating that you will not post any items to customers within the EU.
How do I tell if I am a business seller on eBay?
You would typically qualify as a business seller if you:
buy goods to resell on eBay

sell goods which you have manufactured

regularly sell large amounts of goods

sell identical or similar items (especially new and unused items) over a long period of time
Note: This list is not exhaustive and other activities may mean that you are operating as a business.
If any of the above applies, then you have a legal obligation to declare yourself as a business seller. Declaring yourself as a private seller, even though you are acting as a business, is misleading to potential consumers and breaks consumer protection law and eBay policies.
What information do I have to provide?
As a business seller, you have to provide the following information in a clear and comprehensible manner on all your listings:
1. Contact details
the company name and (if applicable) the full name(s) of the legal representative(s) of the company

the geographic address of the company (a PO Box is not sufficient)

contact details, including an email address, telephone number and fax number

the company's registration number and register (if applicable)

the company's Value Added Tax identification number (if applicable)
2. Clear indications of prices
Prices have to be clear and unambiguous. Also, as a business seller you have to state whether prices include taxes and delivery costs. You should also mention any other costs which the buyer may need to pay (eg: customs/import tax and fees).
3. Information about the consumer's right of withdrawal
If you sell over the internet to consumers residing within the European Union, you have to offer consumers the right of withdrawal. This means that the buyer can return the item within a certain timeframe without giving any reasons. Generally speaking, the seller has to refund the full price of the item as well as postage & packaging costs to the buyer, unless the item is returned in a damaged condition.
4. Terms & Conditions
If you offer certain terms & conditions, these have to be included in your listing or on your About Me page. Failure to do so may result in these terms & conditions being void and not enforceable against buyers.
5. Specific obligations to inform when selling electronic and electric devices
As a business seller you have a legal obligation to show extensive energy labelling information on specific electronic and electric products, when you sell them as new items, for example:
household washing machines, clothes dryers, and household washer-dryers

room air conditioners (air conditioners)
Important: not every single product in these categories is affected – law distinguishes between certain technical aspects of the devices. The obligation does not apply for used devices.
Since January 1st, 2015, distributors are obliged to show the *energy efficiency class* for each device, which is brought to market with a new model number, through a standardized electronic label. Besides that, sellers have to show a *product data sheet* with additional energy-relevant information. There is an obligation to show these labels even for older models, when the manufacturer provides those labels voluntarily.
eBay offers – in collaboration with an external service provider – the possibility to show the energy-relevant information for certain products. As a seller you have the possibility to embed the electronic label and product data sheet into your item page on eBay.
Sellers should provide the manufacturer part number (MPN), brand and EAN in order for energy efficiency information to be shown if available in the vendor database.
In this context, please select a valid value from "A +++" to "G" via the drop-down menu for the item specific "Energy efficiency class". This value can be classified by specifying the range with the item specific "EC Range" that corresponds to the type of the product.
Please note that for the following products new EU regulations entered into force starting March 1st 2021 and September 1st 2021. Such regulations contain several new provisions including new labels, energy classes and ranges. Therefore, please check the current EU legislation for the following products and do a sanity check for your listings. Check your item specifics regarding the energy efficiency class and range and update or add accordingly. Also make sure you have MPN, brand and EAN added to your item specifics.
Household dishwashers: DELEGATED REGULATION (EU) 2019/2017

Household washing machines and household washer-dryers: DELEGATED REGULATION (EU) 2019/2014

Refrigerating appliances: DELEGATED REGULATION (EU) 2019/2016

Refrigerating appliances with a direct sales function: DELEGATED REGULATION (EU) 2019/2018

Electronic displays: DELEGATED REGULATION (EU) 2019/2013

Light sources: DELEGATED REGULATION (EU) 2019/2015
Examples of new energy labels:
Refrigerators and freezers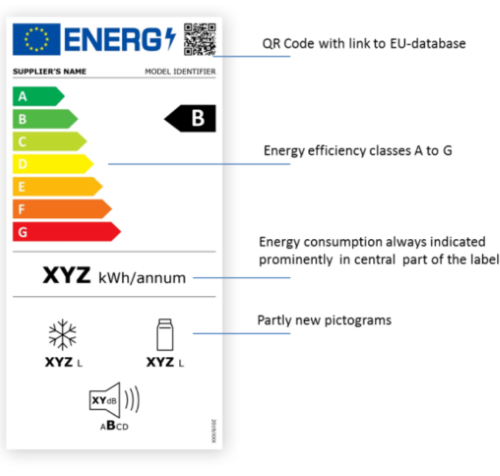 Light sources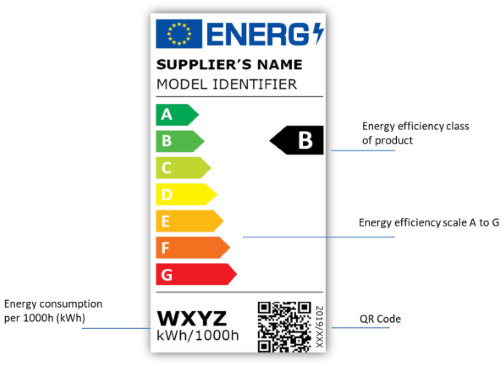 The seller is responsible for his listing. He has to make sure that the electronic label and product data sheet is available on his item page through the service provider and that the energy-relevant information is completed.
Note: If you are not sure whether you have to provide mandatory information or how to integrate it into your offer, please contact a lawyer or legal advice center.
Where does this information have to be provided?
The information described in the previous section has to be included in all of your listings. Alternatively, you can publish this information on your About Me page. In this case, you have to include a link that is clearly visible within your item description which points to the information on your About Me page. Learn more about creating an About Me page.
You can use the following table as a guide. Simply fill in the appropriate fields and copy and paste it into your About Me page or the item description in your listings.
Company Details

Company Name:

Company representative:

Address:

Phone:

Fax:

Email:

Trade registration number:

Value Added Tax ID number:

Returns policy

Our returns policy:

Terms & conditions

Our terms & conditions:
What happens if I do not comply with the law?
Failure to comply with these legal obligations can lead to costly warning letters and cease-and-desist claims from competitors and certain consumer protection agencies. It could also lead to court proceedings and penalties. Please be aware that eBay may take action against business sellers who are not compliant with the law.