Try out the unified listing experience
See what's evolving with our new listing experience, and start using it for your listings.
What you need to know
Starting soon, some sellers can try out our new re-designed listing experience, which will bring more consistency to how you list across devices.
Over the next few weeks, we'll expand this option to all sellers. When you're eligible, you'll see "Try the new listing tool" where you create new listings.
Try the new listing tool
Over the next few months, we'll begin making this the default way to list, although you'll still have the option to switch back to the original listing flow until at least mid-May, 2021. As we work toward making the unified listing experience the exclusive way to list on eBay later this year, we'll continue to expand the features based available to sellers.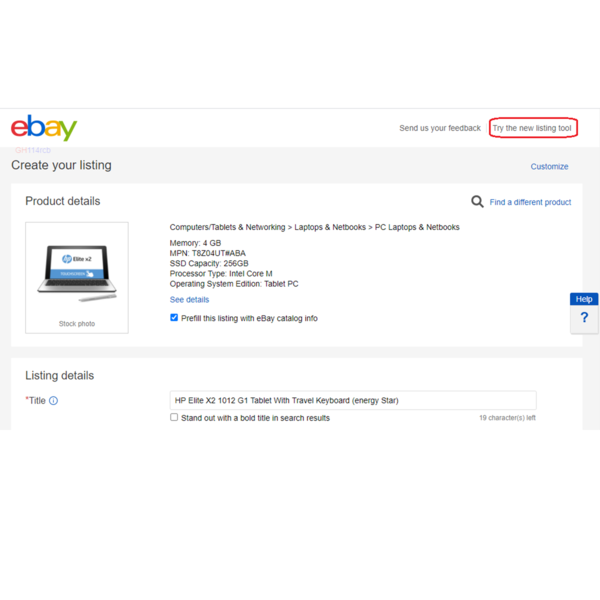 What's new?
This listing experience combines the best features in our current listing flows to give you a clean design and interface that's consistent across all of your devices—mobile, tablet, or desktop. The unified listing experience also eliminates the need for sellers to learn multiple listing tools when they change devices or as their business grows. 
The updated experience is built on new technology that allows us to quickly deliver features to help you create great listings more efficiently, including:
Background Removal on desktop. Previously only available on mobile devices, this feature helps you create professional-looking photos as you list. 
Saved preferences. We'll remember your choices for certain options in the listing flow, so you don't have to re-select them each time you list.

New features to help you list efficiently. We're continuing to expand the listing experience to help you work faster and more efficiently, with features like new keyboard shortcuts and optimised photo management tools.
Your listing fields, item specifics, and integration with third-party listing tools won't be affected by these updates.
What do I have to do?
We will continue to expand the features offered in the unified listing experience. We encourage you to become familiar with this listing experience as soon as you can, as we work toward making this the exclusive way to list on eBay.